Christian Daniel P. Villanueva
Christian's areas of specialization revolve around labor law, corporate law, family law, real estate, litigation, immigration, government relations, and data privacy.
For labor and employment, he has worked as Human Resources Department Head for several companies giving him expertise on labor compliance and employment issues. He advised companies on workforce reduction and labor standards compliance when the COVID-19 pandemic hit the country. He is currently assisting corporate and individual clients before the Department of Labor and Employment, the Court of Appeals, and the Supreme Court.
In the field of corporate law, he is currently the corporate secretary for companies from different industries, such as real estate, retail, hospitality, service, investment, and holding companies. He is currently advising clients on corporate compliance and housekeeping.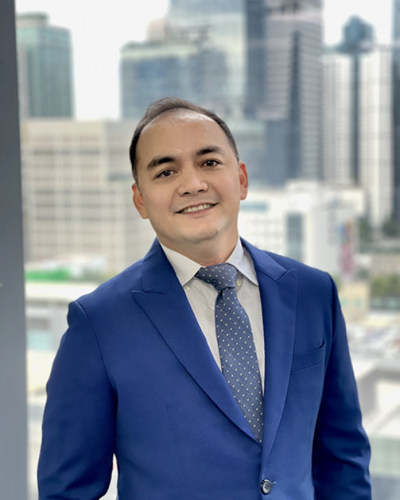 For real estate, he worked with two of the top real estate developers in the country and is also legal counsel for, and sits as corporate secretary of, other real estate companies.
For dispute resolution, he has a myriad of individual and corporate clients whom he assists on cases involving criminal, civil, and family laws before judicial bodies.
For work involving Data Privacy, he is a certified Data Privacy Officer and has assisted clients on privacy impact assessments and data privacy compliance. He has drafted several data privacy manuals and procedures for clients and has conducted data privacy seminars for the employees of corporate clients.
In the field of immigration, he advises clients, including international companies, on visa applications to bring foreign workers into the Philippines, as well as the procurement of work permits from the Department of Labor and Employment. When the Covid-19 pandemic hit, he has helped companies in applying for exemptions to the Philippines' travel restrictions.
For government relations, he has represented clients before national government agencies, local government units, and elected officials in communicating and lobbying for effective public policy in the different levels of governance.
Prior to founding GVES Law, he was the General Counsel of Tim Hortons Philippines and an associate of Kapunan Garcia & Castillo Law Offices. He is a graduate of the Juris Doctor and Master of Business Administration program of the De La Salle University and Far Eastern University – Institute of Law consortium. He also obtained his bachelor's degree in Mass Media from De La Salle University.